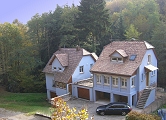 The house was built in the 1930s, and originally used as a weekend retreat by a wealthy family from Strasbourg.
It was purchased by the current owner in 1993 and completely renovated in 2007, with careful attention being paid to conserving the charm of the original wooden beams and local sandstone - the 'grès rose d'Alsace'.
The property is beautifully situated in a valley 2kms west of the village of Barr, itself a principal destination on the world-renowned Alsatian wine route, the 'route du vin d'Alsace'.
Flowing through the property is the river Kirneck, a small stream that is primarily fed by natural springs further up the valley in the Vosges ... perfect for paddling in the summer!
The immediate vicinity is renowned for its hiking and cycling paths whilst 500m further up the valley is the start of the famous 'Course de Côte de Barr', an annual motor-cycling race that takes place each May.